26 Aug

Top 10 Sights to Visit on Norfolk Island

Norfolk Island is one of the South Pacific's best kept secrets. Located midway between Australia and New Zealand, this little gem has everything from beautiful beaches to lush forested valleys.

If you're looking for a truly unique travel experience, then Norfolk Island is the place for you. Be sure to check out the below top spots during your visit.

1. emily Bay
1. EMILY BAY

Emily Bay is Norfolk Island's main beach. Lined with beautiful vibrant pine trees, this picturesque lagoon is perfect for all ages and all activities, whether you're kayaking, sunbathing or making sand castles.
2. CAPTAIN COOK MONUMENT

Captain Cook Monument marks the landing place of Captain James Cook in 1774. This little cliff top spot is the perfect place for a picnic, with stunning sea views and BBQ and toilet facilities.  
Head down to the lookout to observe the islets surrounding Norfolk Island or start your trek along the magnificent coastal walking tracks.
3. CRYSTAL POOL
Crystal Pool consists of 2 natural rock pools, filled with crystal-clear waters and little friendly fish, making it the perfect snorkelling spot.
It's a mild hike to get down to Crystal Pool, but it is well worth it.
Note: Crystal Pool should only be visited weather permitting. For perfect conditions check for an easterly wind and low tides. Do not go if tide is high as it can be very dangerous.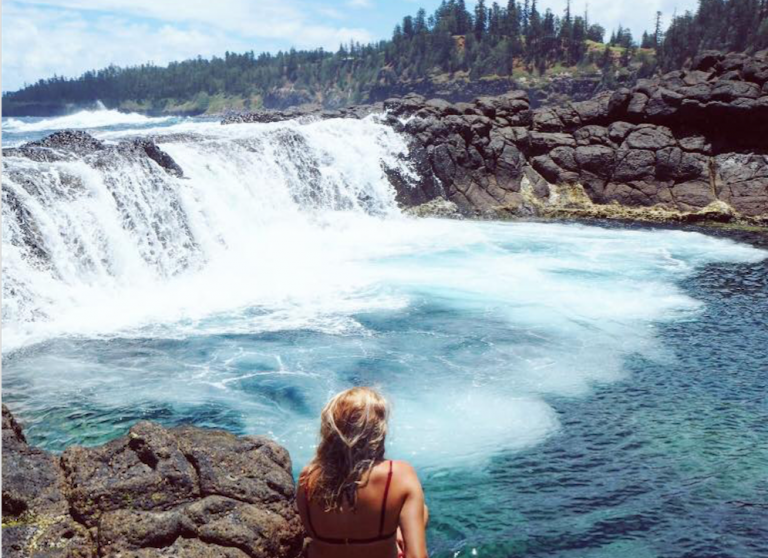 4. KINGSTON & ARTHUR'S VALE HISTORIC AREA
The Kingston & Arthur's Vale Historic Area is a World Heritage Listed site which is rich with history, comprising four layers of inhabitants. The remaining buildings and archaeological sites are primarily from the Penal Convict Settlement of 1824 – 1855, however there is evidence of buildings from the earlier Colonial Convict Settlement spanning from 1788 – 1814.
Prior to 1788, the island was occupied by a European Polynesian Settlement, leaving their influence with numerous archaeological remains around the area.
The Pitcairners re-settled Norfolk Island in 1856, establishing their community within the vacant Penal Convict Settlement buildings at Kingston.
All tour operating companies on the island, have a history tour which we would highly recommend in order to experience this unique heritage site in its full capacity.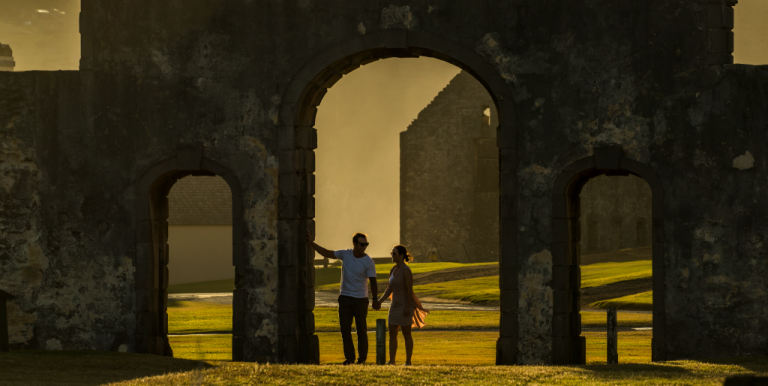 5. MT PITT
Standing at 320 metres above sea level, Mt. Pitt offers breathtaking 360 degree views of the whole island as well as the outer surrounding islands, Phillip and Nepean. The lookout offers picnic tables and is accessible by car making it a perfect spot for all ages.
For those a little more adventurous, Mt. Pitt is the starting point for some of the best wilderness walking tracks the National Park has to offer.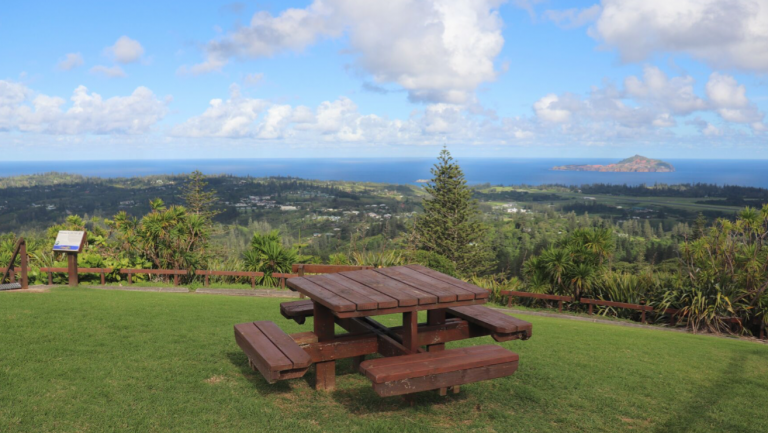 6. BUMBORAS BEACH
Located on the south side of the island sits Bumboras Beach, also known as "Bumby" to the locals. This beach is best known for its rock fishing and snorkelling at low tide and is a popular place amongst the locals to go surfing when the weather permits.
The beach is easily accessible with a wooden boardwalk taking you from the carpark straight down to the sand. However, the road to the carpark is unsealed and can be a bit dangerous during wet weather.
At low tide it is possible to walk around to the right of the bay (if looking out to sea) over the rocks to Second Sands, which homes some amazing rock pools filled with sea anemones, referred to as wannas by locals.
Note: Getting to Second Sands can be very dangerous if the tides are coming into high tide, so please be sure it is low tide and they are staying low for the duration of your time there. You can find information on the tides in the local newspaper, the Norfolk Islander.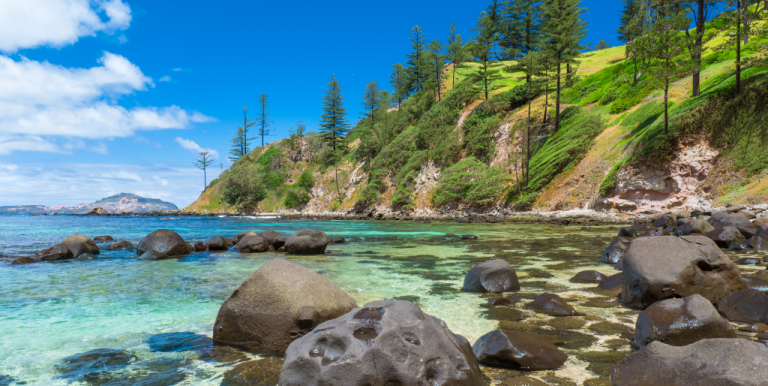 7. THE CHORD
The Chord is a magnificent natural rock pool, much larger than the previously mentioned Crystal Pool. Almost completely untouched by human intervention, this gem has amazing wildlife from the birds on your walk down to the marine life in the pool itself.
To get to the Chord it is quite a long hike down a cliff face, so we would only recommend it to relatively fit adventurous people.
The tide is also something to take into consideration. Make sure the tide is low and the wind is coming from the south-west direction for perfect conditions.
Another thing to be aware of is the bird life, around October – late November is their nesting season. Best to steer clear of The Chord during this time as it disturbs the birds and their chicks and they can become quite protective and defensive.
Note: You can only visit the Chord with a local or a tour guide.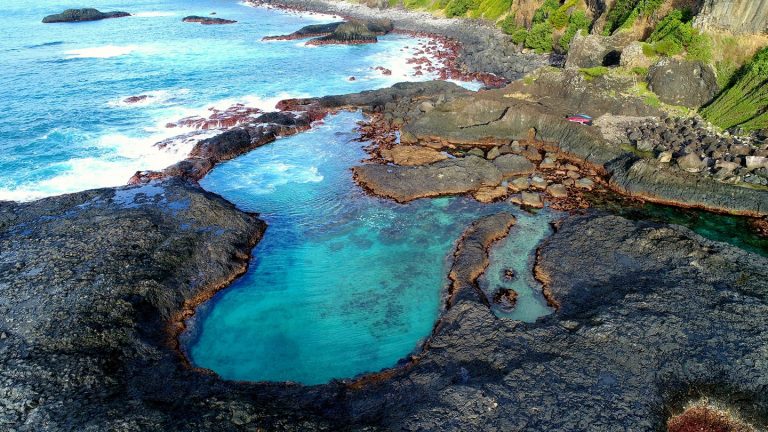 8. cockPIT WATERFALL
Cockpit Waterfall is Norfolk's main waterfall. Naturally, it looks its best through the winter season after a lot of rainfall. It is definitely a place worth visiting with rolling hills and running creeks overlooking the deep blue ocean.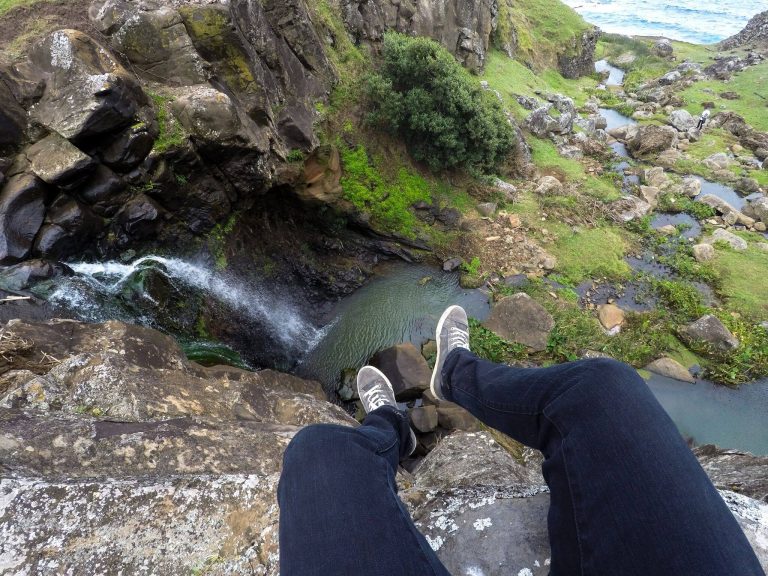 9. THE CEMETERY
This cemetery has to be up there with one of the best cemetery views in the world. Located on the edge of a headland, overlooking a gorgeous beach this Cemetery is worth a visit.
Not only is it beautiful, it is rich with history showcasing headstones dating back to the First Settlement. There are many tours available on the Island to take you through The Cemetery.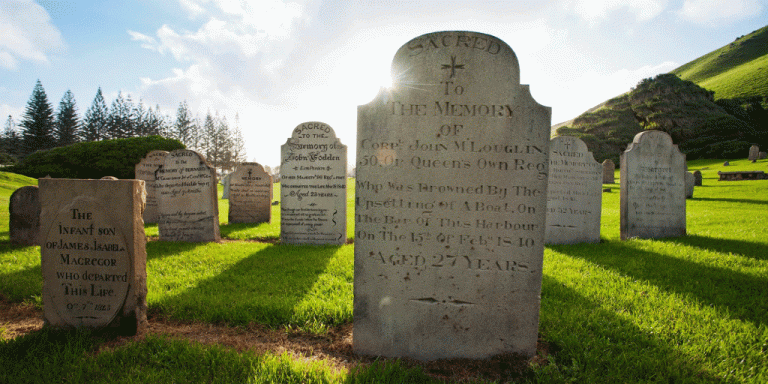 10. ANSON BAY
Anson Bay possesses some of the most iconic views Norfolk Island has to offer, with golden sand and turquoise waters. Even if you don't head down to the beach itself, we would recommend driving out to Anson Bay and looking down from the clifftop. It's the perfect spot for a sunset picnic.
To get to the beach there is a big walk, however it is fairly flat and no climbing is involved. Make sure you take lots of water down with you as there isn't a lot of shade on the beach.
Swimming is at your own risk, no Norfolk beaches have lifeguards, but Anson Bay is well-known for its unforgiving seas and its rips. So take extra caution.
For the more adventurous types there is a rockpool to the right of the bay (if you are looking out to sea) known as 'The Wash Pool'. To get there you do have to scale over the rocks where you will find a grass track that goes along the cliff edge to a rock pool. Again this can only be visited during calm seas and low tide. It gets its name from the angle of the rock which shelters the pool from the waves, but every now and then one will make it over creating a 'washpool' effect.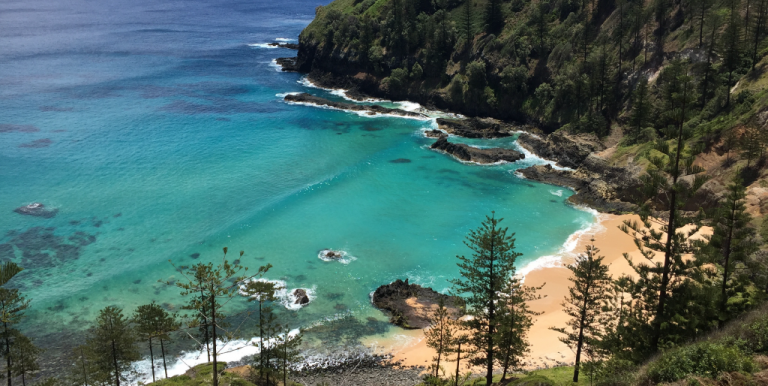 Broad Leaf Villas is the perfect place to stay during your Norfolk Island getaway. Located just out of town it's just minutes from the island's top sites. Check out our rooms and packages and start planning your holiday.
Broad Leaf Villas also offers a hire car option allowing you to easily access everything Norfolk Island has to offer.